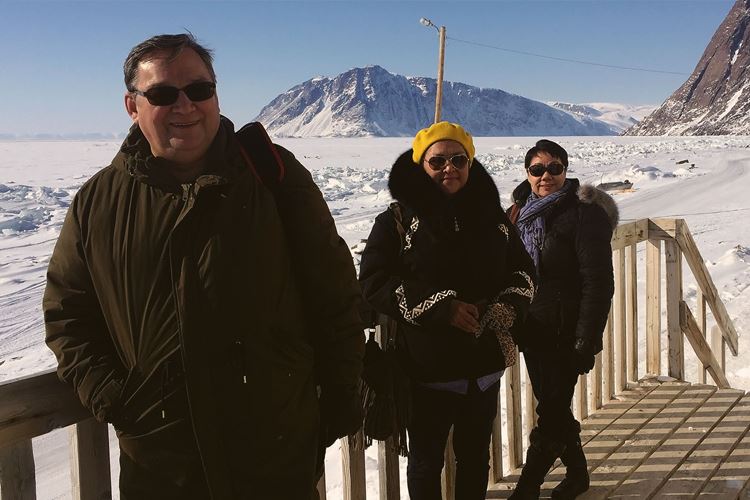 Press release - January 2016
| by: Eegeesiak, Kleist, Aariak
Inuit led Pikialaorsuaq Commission to Study the Important Northwater Polyna

Iqaluit, Nunavut and Nuuk, Greenland – The Inuit Circumpolar Council - Office of the Chair and the Inuit Circumpolar Council - Greenland have initiated the Pikialaorsuaq Commission to consult with Canadian and Greenlandic communities that are most closely connected to the North Water Polyna (Pikialaorsuaq in Greenlandic).
The Inuit led Pikialaorsuaq Commission will be led by three Commissioners, who are having their first organizational meeting today in Iqaluit. The Commissioners are: ICC Chair, Okalik Eegeesiak is the International Commissioner; former Nunavut Premier, Eva Aariak has been appointed as the Canadian Commissioner; and former Greenland Premier, Kuupik Kleist will be the Greenlandic Commissioner.
The North Water polynya is an area of open water surrounded by sea ice. It is the largest one in the Northern Hemisphere and the most biologically productive ecosystem north of the Arctic Circle. It lies in northern Baffin Bay between Greenland and Canada's Ellesmere Island near Smith Sound and Nares Strait and is an important marine area for Inuit and the species upon which high Arctic communities rely.
The North Water is an area vulnerable to climate change. Inuit in the region have expressed a desire to explore locally-driven management options in advance of increased shipping, tourism, fishing, and non-renewable resource exploration/development. The Commission's mandate will be to listen to Inuit and knowledge holders who use and depend on this region about their vision for the North Water's future use and cooperation.
The Commission will begin hearings in the Canadian high Arctic this spring and travel to the Greenlandic communities in the early summer after breakup. The Commission report with recommendations on the future of the North Water will be released to the public in the fall of 2016. Current funding for the Commission has been provided by Oceans North Canada, the Oak Foundation and World Wildlife Fund Canada, while additional funds are being sought.
For more information
Natasha Latreille
ICC Canada
NLatreille@inuitcircumpolar.com
613-563-2642
Alfred Jakobsen
Oceans North Greenland
aerj58@gmail.com
Commissioners
Okalik Eegeesiak
chair@inuitcircumpolar.com
613-563-2642
Kuupik Kleist
kvk@ggnuuk.gl
+299 54 78 58
Eva Aariak
eva.aariak@gmail.com
867-222-8355